Regular price
Sale price
$8.00 USD
Unit price
per
Sale
Sold out
Why Turning Natural?
No food coloring, no ice, no syrups, no flavorings, no sugar, just the good stuff...and love!
INGREDIENTS

Fennel, Granny Smith Apple, Ginger, Lemon
NUTRITION FACTS
View full details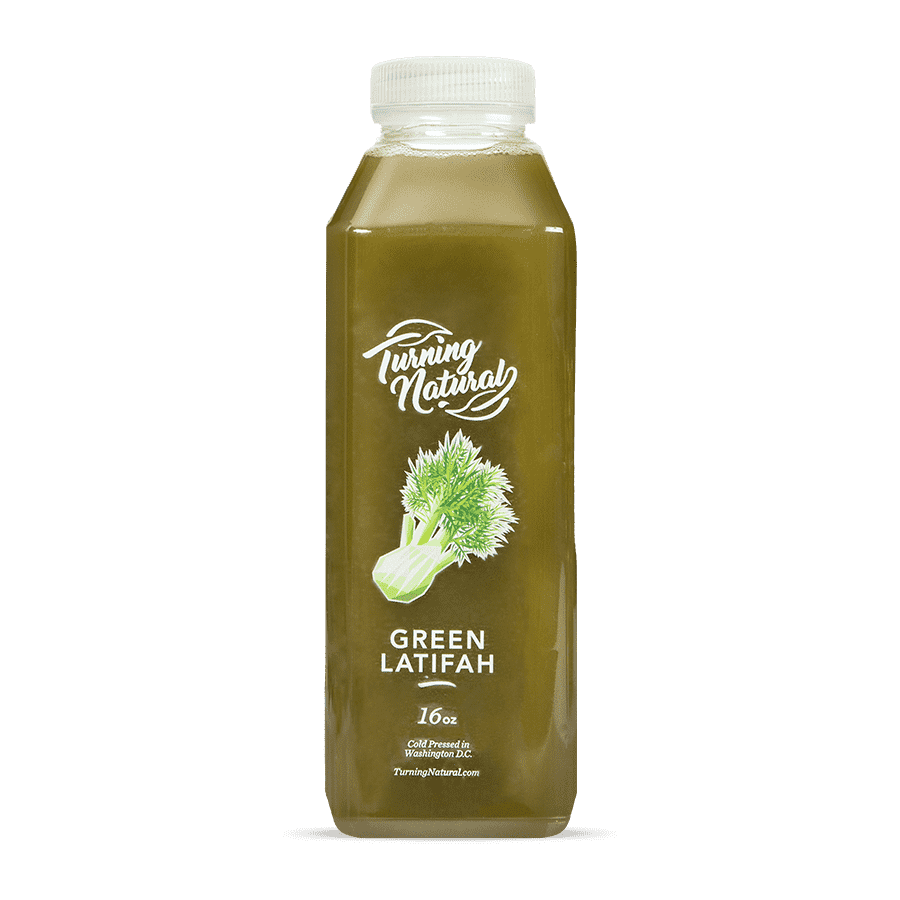 What's Inside
Fennel

Prevent anemia, healthy skin, and healthy weight.

Granny Smith Apple

Gut health, brain health, great source of fiber.

Ginger

Anti-inflammatory, anti-fungal, digestion, and immune system.

Lemon

Weight control, digestive health, protect against amnesia.
They Love It!
"completed the 7 Day Cleanse and I can't believe I went SEVEN WHOLE days without food.  I will say I slept better and lost 12 pounds, so I feel much lighter. I think I will try to do this every 6months"
B. Bryant
"I was surprised by how good the juices were. I've never done a juice cleanse where I was excited to see what the next juice was going to taste like."
S. Williams
"I've cleansed with Turning Natural for years now.  I love how the juices are numbered so I don't have to choose which one will be next.  Always a great experience." 
T. Bellmon 
"I'm not going to lie I thought about food the entire time BUT drinking 6 juices a day kinda feels you up and it's more vegetables in a day I would get on a regular basis."
M. Miller
"Turning Natural cleanses are hands down the best.  Juicing on my own sometimes is too much.  So happy I found a place to trust with my juicing needs." 
T. Holt
"A 3 Day Cleanse and 10lbs was my goal.  After two days I realized how much my body needed this reset."
Josh M.
Have Questions?
How do you make your juices?

Cold-pressed is best! And we use one. Our Hydraulic Cold Press liberates the nutritional enzymes from the fibers of the produce and then puts them under extreme pressure. As the hydraulic press does not force air into the juice during pressing, the juice does not decay as fast, so you're left with a higher mineral content.
Do you use organic produce?

Yes & no. We support both local and organic farming practices, however on items like grapefruits, lemons, oranges…things that have a natural protectant, no. We ensure our twelve most-used ingredients (the dirty dozen) are organic. We strive to keep the same policy with other ingredients, availability permitting.
How long do the juices last?

Cold pressing ensures the most nutritious and live juice possible. Keep it with confidence for up 5 days.
Why don't you give all the juices at once?

We designed our cleanse schedule to ensure you get the freshest juice possible – one pick-up for the Three-Day Cleanse, two for the Five-Day and three for the Seven-Day.
Does it really matter what order I drink the juices?

Absolutely. We really thought this through. The juice cleanse is formulated to work at detoxifying your body in the proper order. You should be drinking a juice every 2-3 hours.
Choosing a selection results in a full page refresh.
Opens in a new window.